As owner of a second-generation, family-run business specializing in architectural concrete finishes, owner Tyson Long of Hardscapes Inc. has continued to succeed in expanding the scope his Calgary-based concrete finishing operation since its beginnings in 1996. From working with high-end Calgary home builders and designers to general contractors and private home owners, the team at Hardscapes Inc. approaches every project with a meticulous attention to detail and a focus on customer service.

As many business owners are focused on the growth of their company, they begin to find that keeping up with critical back office details like bookkeeping, accounting, and tax preparation can be tedious and time consuming. In Tyson's case, he was acting as a bookkeeper, managing his own paperwork and come tax season, just using an accountant to file the business' taxes on his behalf at the end of the year.
After receiving a free initial consultation from an accounting professional from the CoVenture team, Tyson realized he was simply too busy and inexperienced as a business owner to manage his tax and accounting requirements internally. Tyson signed on to CoVenture's remote accounting and tax preparation services.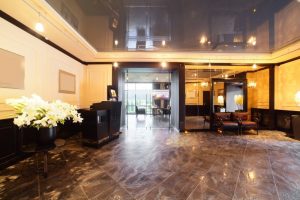 With a busy season ahead, resurfacing driveways, installing concrete overlays, and completing custom architectural concrete projects for retail, commercial, and industrial spaces, Tyson no longer worries about maintaining his back office and since switching to CoVenture his company has never missed a CRA filing deadline resulting in no late filing fees or expensive penalties. Tyson enjoys receiving an annual 3rd quarter tax review, where he is advised as to what he can expect to pay in taxes prior to his year end. He also receives tax planning advice as to what actions he can take to lower his tax burden for this company and for his family.
Established in 2003, CoVenture was formed to provide hard working business owners the freedom to focus on their company through a personalized approach to accounting, tax, and compliance services. Our small and experienced firm services all kinds of small businesses in Alberta, B.C., and Saskatchewan with flexible and affordable solutions for every industry.
Contact us for a FREE CONSULT to discuss our remote accounting and tax preparation services and delegate your back office accounting requirements to the experienced professionals at our office.